In April 2019, Goyder Institute for Water Research scientists Professor Daryle Rigney and Associate Professor Steve Hemming from Flinders University were invited by the Canadian House of Commons to present a special submission to the Standing Committee on Natural Resources in the area of best practice Indigenous engagement.
Associate Professor Hemming presented to the Standing Committee and supplied a background paper – South Australian's Murray-Darling Basin: a case study of Indigenous engagement and partnerships in natural resource management – which drew from several Institute projects, including Indigenous engagement in environmental water planning, research and management (2014), Incorporating Indigenous knowledge, values and interests into environmental water planning in the Coorong and Lakes Alexandrina and Albert Ramsar Wetland (2016) and the current project Translating Ngarrindjeri Yannarumi into water resource risk assessments.
The Translating Ngarrindjeri Yannarumi into water resource risk assessments project is a partnership with the Department for Environment and Water (DEW), Flinders University and the Ngarrindjeri Regional Authority (NRA). The project is the first of its kind in Australia and uniquely brings together government water planners and Ngarrindjeri researchers to develop a mechanism that better incorporates Ngarrindjeri values into government water planning processes.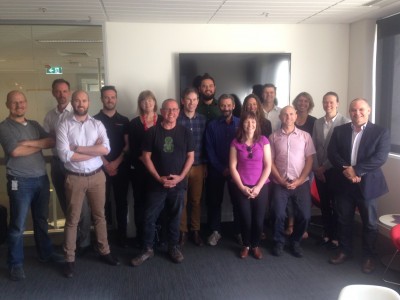 The project is developing and trialling a tool and methodology that will translate Ngarrindjeri Yannarumi assessments, which assess water and environmental health based on Ngarrindjeri principles and philosophies, into water resource risk assessments. This forms a unique solution to the global challenge of finding better ways to bring Indigenous peoples into environmental water management. Ngarrindjeri are the Traditional Owners of the Lower Murray, Lower Lakes, Coorong and surrounding region and are a leading Indigenous nation in relation to Indigenous engagement in water resource management.
In 2015 the Ngarrindjeri Nation, in partnership with the South Australian Government, won the Australian Riverprize for best practice in water management after leading the development of a co-management approach to the Coorong, Lower Lakes and Murray Mouth (CLLMM) region during the Australian Millennium drought crisis. Ngarrindjeri have sought to articulate their sovereign aboriginal 'environmental' rights and have successfully negotiated these rights with the South Australian State by producing targeted legal and political innovations that enable shared authority in the co-development of natural resource management policy. The strong Nation-based approach taken by Ngarrindjeri to develop negotiated strategies with the South Australian and Commonwealth Governments is important in the Canadian context as the relationships between the government and First Nations in Canada are also largely treaty-led.
The Institute projects are built on a long history of collaboration framed by an existing partnership between the NRA, Flinders University and DEW. At their core, the Institute's projects demonstrate how transformative relationships with government, built on contract law agreements such as the KNYA and associated engagement tools and processes, can produce innovative solutions in the NRM and water resource sectors. By working together in this way, the project teams are successfully modelling how other governments and Aboriginal Nations can collaborate to improve environmental resources and support Indigenous peoples to protect their rights.
Contact Associate Professor Steve Hemming for more information about the Institute's Indigenous engagement projects and partnerships in natural resource management.