New research through the Goyder Institute for Water Research project – Ecological connectivity of the River Murray: managing ecological outcomes and water quality risks through integrated river management – is helping water managers to better understand and quickly assess the impact of management decisions on the ecology of the River Murray.
Dr Matt Gibbs (The University of Adelaide and Department for Environment and Water [DEW]) leads the project with Professor Justin Brookes (The University of Adelaide), with support from colleagues from CSIRO, SARDI, DEW and The University of Adelaide. Their research over the last two years has focused on quantifying the relationships between the hydraulics of the river and water quality risks and ecological responses.
Dr Gibbs recently presented their research to over 130 water industry professionals from 20 countries in a webinar titled: Advances in Integrated River Management, run by the International Centre for Excellence in Water Resource Management (ICE WaRM). The webinar is available to view online and includes Goyder Institute researcher Dr Steve Hemming presenting his research from the Translating Ngarrindjeri Yannarumi into water resource risk assessments project.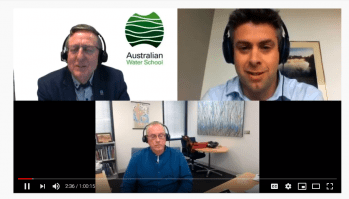 "We're improving our understanding of some of the in-channel processes that may be altered by using structures to increase inundation along the river. For example, if we use infrastructure to raise water levels to give trees a drink, then we'll have increased storage and the cross-sectional area of the river, and the speed of the water flow will reduce," said Dr Gibbs.
"Faster flowing water, which some fish species rely on for parts of their lifecycle, might be lost if we're inundating areas to look after the trees – and so we might be compromising another part of the ecosystem."
Zooplankton and Murray cod depend on drift in the water column, so the water velocity needs to be high enough to keep them suspended and moving through the channel, so that they can spread out and increase their abundance. Zooplankton and Murray cod are both important organisms within the Murray River foodweb.
"Our field work has shown that we find more of these creatures when the velocity exceeds 0.2 metres per second and up to 0.3 metres per second, depending on which process of their lifecycle we're looking at. When there's more of them, there's more food and we can support a more productive foodweb and ultimately a larger population of fish."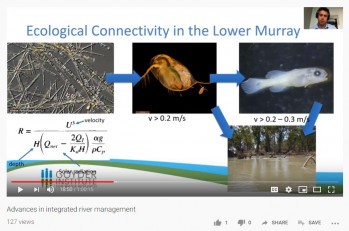 Dr Gibbs and his team have incorporated their new research into the eWater Source hydrological model of the River Murray, so water managers can predict what will happen to the foodweb when the hydraulics of the river change with flooding. They've also included data from their research on the water quality risks associated with inundation.
"There are a lot of resources on the floodplain, like organic carbon and nutrients, that will be brought back into the water following inundation. This can be a good thing to stimulate the foodweb, but it can also lead to problems if we're bringing a lot of carbon or nutrients into a river with low flows – there'll be an increased chance of hypoxic blackwater events or algal blooms," said Dr Gibbs.
The new functionality of the eWater Source model predicts organic matter on the floodplain; how that will release carbon to the water when inundated; and how that carbon might be broken down in the water by micro-organisms and in doing so influence dissolved oxygen levels. It's the first time a model has been developed for the River Murray that incorporates water quality characteristics, ecological responses, and river hydraulics at the scale of hundreds of kilometres of river reaches to inform infrastructure operations.
"To compute the hydraulic change typically takes days of computer time at this scale – we have pre-processed these calculations to enable our model to look it up almost instantaneously," said Dr Gibbs, "It gives water managers a lot more information to start help shaping their objectives and what benefits and tradeoffs they may be creating when they make management decisions like inundation through infrastructure operations".
"If management can keep that foodweb connected and keep those habitat conditions there, then we can be more confident we're going to get the desired ecological outcomes,' said Dr Gibbs.
Contact Dr Matt Gibbs for more information about the eWater Source model and the Ecological connectivity of the River Murray project or get in touch with Goyder Institute Director Dr Kane Aldridge for more information about the Institute's research within the Murray Darling Basin.