The Goyder Institute for Water Research recently partnered with the Water Industry Alliance and the International Centre of Excellence in Water Resource Management, the National Centre for Groundwater Research and Training, Water Research Australia and the Department for Environment and Water in the Women in Water breakfast series, with the July breakfast focusing on 'Celebrating women in leadership in the move toward gender equality'.
Over 100 people gathered to hear Chelsea Randall, co-caption of the Crows AFLW team, speak about her journey to playing AFLW and the importance of having the courage to embrace challenges and celebrating leadership. Chelsea also spoke about doing what is needed to deliver the biggest impact and longest lasting legacy, rather than what will deliver the short-term wins. 
After her presentation Chelsea was joined in a panel discussion with Jodieann Dawe, Director of Research and Innovation at Flinders University and Matthew Salisbury, Regional Director SA & NT for WSP and a member of the Chiefs for Gender Equity. Audience members had the opportunity to ask questions and hear the thoughts of our eminent panellists. You can read more about Chelsea's presentation and the panel discussion here.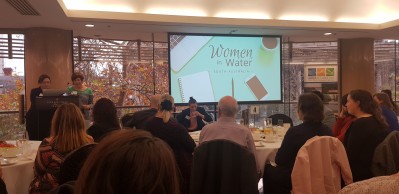 Celebrating women in leadership is especially important in STEMM (science, technology, engineering, mathematics and medicine) fields where a significant decline (to just 20%) occurs in the proportion of women at professorial levels compared to those at bachelor degree and early post-doctoral levels. In contrast, male/female ratios in non-STEMM disciplines are close to parity. Professor Bronwyn Gillanders, leader of the Goyder Institute's Coastal Carbon Opportunities: demonstrating additionality and potential for future offsets in South Australia project, highlighted this disparity in a recent editorial Women in marine science in Australia co-authored with Dr Michelle Heupel for a special issue of the journal of Marine and Freshwater Research, Women in Marine Science, published by CSIRO. The gender parity data they cite suggests that Australia is losing significant talent, at least from higher education institutions, and this trend is also likely to be seen across STEMM research organisations.
Prof Gillanders and Dr Heupel edited the special Marine and Freshwater Research issue, which brought together 12 contributions from women (and involving other women and men as co-authors) to highlight women as lead authors across the breadth of marine research. Together, these contributions represent 40 women across all career stages from 20 institutions and build on the strong history of women's involvement in marine science.
Professor Gillanders and colleague Dr Alice Jones along with Professor Sabine Dittmann (leader of From Salt to C: carbon sequestration through ecological restoration at the Dry Creek Salt Field project) are heading up the Institute's Blue Carbon research program in the Climate Change Impact Area and are outstanding examples of women in leadership. They are inspiring and mentoring the next generation of water scientists.
Click here to read Prof Gillanders and Dr Heupel's editorial, view the contents of the special Women in Marine Science issue of Marine and Freshwater Research or follow the Coastal Carbon team on twitter as they share their research.