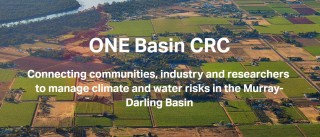 The Goyder Institute for Water Research and partners (Flinders University, ICE WaRM, SARDI, the University of Adelaide and the University of South Australia) are working with the University of Melbourne, the University of Southern Queensland, and the Australian National University on a cooperative research centre (CRC) bid and is seeking expressions of interest from potential partners.
The ONE Basin CRC aims to connect communities, industry, governments and researchers to manage climate and water risks in the Murray Darling Basin. Water availability and climate variability trends indicate these challenges will continue to escalate. While the 2012 Basin Plan sought to manage competing water needs at a whole of Basin scale, the range of pressures at a domestic and international level create increasing challenges. ONE Basin CRC is proposed as a trusted adviser to help us adapt to these challenges and risks, and will bring a range of skilled resources to bear to support longer term thinking, research and development, leadership and change management.
Four interdependent programs are proposed in the ONE Basin CRC: Regional Hubs, Basin Foresight, Adaptation Solutions and Fresh Water Solutions. All bid partners are working collaboratively on developing the scope of all programs, with the Goyder Institute taking a lead on the scope of the Fresh Water Solutions Program to help provide affordable, secure water sources to support domestic water and primary industries. The program will look at developing localised and system-wide solutions to identify, source, treat, store and transport surface and groundwaters of varying qualities to overcome reduced water availability associated with climate change.
A well structured CRC brings together leadership and collaboration between multidisciplinary research teams with strong industry, government and community involvement.
We are seeking to engage with potential industry partners to determine their knowledge needs and the extent to which they may want to be involved to address this national issue.
If you'd like to be involved or find out more about the ONE Basin CRC, please contact Goyder Institute Director Dr Kane Aldridge or the ONE Basin CRC team.