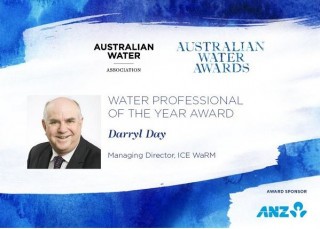 The Goyder Institute for Water Research congratulates Darryl Day for being named Water Professional of the Year by the Australian Water Association at the Ozwater Gala Dinner.
Darryl is ICE WaRM's Managing Director and a member of the Institute's Research Advisory Committee. ICE WaRM is the gateway to Australian expertise in education, training and research in water resources management, water sensitive cities and access to safe drinking water and sanitation. As a Partner of the Goyder Institute, ICE WaRM facilitates the uptake of the Institute's research into the Australian and international water community. As ICE WaRM's Managing Director, Darryl develops and implements collaborative approaches to develop capacity in international organisations in order to realise the United Nations Sustainable Development Goals.
This award recognises Darryl as an incredible water professional who has dedicated his working life to the water sector, much of which was spent in the Northern Territory Government. Darryl's lifelong passion to address access to sanitation and safe drinking water supplies is evident through the endless time he has devoted to improving the health and wellbeing of Indigenous Australians and some of the Northern Territory's most disadvantaged community members. He has also mentored many young professionals, most of whom are now key contributors to the water and broader sectors in the Northern Territory, nationally and internationally.
Darryl's transformative leadership style has improved the performance of many organisations, companies, and government departments across the water sector. We value his contribution to the Goyder Institute, including helping facilitate the important partnership between the Institute and ICE WaRM.
We are delighted that Darryl has been recognised with this honour – congratulations Darryl!
Find out more about the 2019 Australian Water Award winners.