The Goyder Institute for Water Research has won the Minister for Environment and Water's Award for Excellence and the Innovation in Large Organisations Award at the Water Industry Alliance's 2019 Smart Water Awards. In their 16th year, the awards recognised and celebrated Alliance members for their leading-edge expertise and innovation at a ceremony on 7 June.
The Institute received the Minster's Award for excellence across many areas that underpin the Smart Water Awards, including innovation, alliancing and environmental impact.
The Water Industry Alliance said that the innovation demonstrated in the Institute's submission was world class and showed an ability to adapt to the changing world around us. They highlighted the Institute's ability to work together with other organisations for the greater good of South Australia.
Dr Kane Aldridge, Director of the Goyder Institute, said the award is a testament to all of the Institute's partners – the South Australian Government, CSIRO, Flinders University, the University of Adelaide, the University of South Australia and ICE WaRM – and demonstrates the value of collaboration as well as the Institute's ability to bring together experts and policy-makers from across the sector to solve key water resource issues.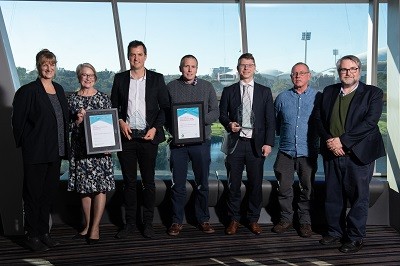 The Institute's Climate Resilience Analysis Framework and Tools (CRAFT) project won the Innovation Award for the new methods and tools they've developed to help water planners and policy-makers assess the impact of climate change on water resource systems and guide adaption planning.
The team, led by Professor Seth Westra from The University of Adelaide and involving CSIRO team members, took a novel approach by first looking at a system's purpose (e.g. water security, water quality), its components (e.g. surface water storage, managed aquifers, importing water), and what other options might be available. These options are then 'stress tested' against potential climate changes to identify the potentially unforeseen modes of system failure (sometimes referred to as 'black swans') and develop the most resilient solution given a range of future climate scenarios.
CRAFT encapsulated this process into a simple five-step framework and developed the companion software foreSIGHT, that tests the resilience of systems under a wide range of climate scenarios and weather conditions.
The Institute is delighted that its partners, teams and researchers have been recognised in this way and congratulates all other award winners and nominees on their success and contribution to water resource management in South Australia.
Read more about the winners here.