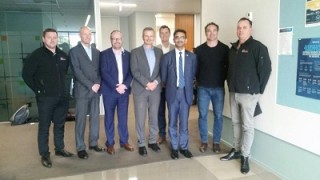 Earlier this month, Goyder Institute for Water Research Director Dr Kane Aldridge joined the Smart Water Mission to New Zealand with SA Water, ICEWaRM and the Department for Environment and Water to promote South Australia's water capabilities and establish pathways for the State's water industry into this market. South Australia is widely considered to be a world leader in water research, policy development, training and innovative water technologies and there is significant interest from New Zealand in accessing this capability as it embarks on a significant process of water reform.
During the four-day mission Kane met with leaders from Watercare, New Zealand's largest water utility, as well Irrigation New Zealand, a national member organisation that looks after the interests of irrigating farmers, growers and industry professionals.
The delegation also met with Te Waka, a business-led and governed organisation established to drive economic growth in the Waikato region, as well as the Institute of Environmental Science and Research, the University of Auckland, the National Institute of Water and Atmospheric Research and the Ministry for the Environment.
The mission was extremely successful in achieving its purpose of developing an understanding water challenges in New Zealand, establishing a network and identifying potential collaborative opportunities between New Zealand and South Australia.
The New Zealand Government has recently released an ambitious water reform agenda to address water quality concerns. A number of opportunities were identified for South Australia and New Zealand to use their complementary skills and expertise to support each other's water reform agendas, which will be progressed over the coming months.
The mission also coincided with the Water New Zealand Conference and Expo and delegates had the opportunity to network and hear keynote lectures by the Hon David Parker, Minister for the Environment, NZ and Dr Art Umble, an international specialist in wastewater treatment and practice. Mark Gobbie, the Acting Chief Executive from SA Water, also delivered a keynote address, highlighting South Australia's capabilities around water security, water quality and energy challenges.
The Institute looks forward to continuing and extending its collaboration with colleagues in New Zealand and its partners within Australia.
For more information about the Institute's collaborative research initiatives with New Zealand, contact Goyder Institute Director Dr Kane Aldridge. For more information about South Australia's Smart Water Mission contact Steve Morton.