An independent evaluation has concluded that the Goyder Institute's second term research program (2015-2020) was highly successful, delivering important research that influenced priority water policies and improved economic, environmental, cultural and social outcomes within South Australia.
In addition to Videos and Project Highlight Summaries produced for individual projects (links below), a summary of the overall success is presented in a recently released video:
The evaluation was conducted by Aither using well established evaluation techniques. Outcomes were evaluated against the goals and objectives of second term Strategic Research Plan and included interviews and surveys of project team members, end-users and stakeholders, and a review of project outputs. Aither found that:
The research improved decision making and policy development for water management across South Australia.
Collaboration between partner agencies and end-users was highly valued.
The research program was designed and delivered successfully with high quality, independent and rigorous outputs.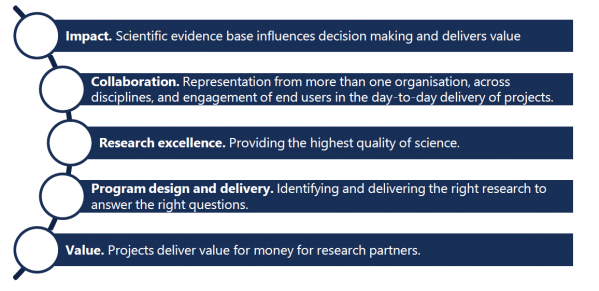 Collaboration – a key to success
A key aspect of the success of the second-term was the innovative model that consistently delivered high-quality, collaborative research to address priority water management issues for South Australia and Australia. Importantly, collaboration occurred:
between researchers of different disciplines and organisations that allowed the research to address complex water management problems in a holistic manner – this included 19 project teams of researchers from across 20 Institute partner and affiliate research organisations
between researchers and end-users that facilitated the research being adopted – this included collaboration of the research teams with 18 different end-user organisations
at each stage of the research-adoption pathway, from identifying priorities, scoping projects, delivering projects and knowledge adoption.
Cultural, economic, environmental and social impacts
Aither concluded that the research undertaken in the second term successfully delivered a range of important economic, environmental, cultural and social outcomes across the three priority Impact Areas:
Research excellence – critical for underpinning decisions
End-users identified that the quality of the research outputs was important for supporting decisions by providing an independent and robust knowledge base for evidence-based decision. The research excellence involved in the research program is reflected in:
The diversity and number of internationally recognised researchers involved in projects – 187 scientists (40.3 FTEs) from 20 research organisations, including 25 early career researchers and masters and doctorate students.
The large number of high-quality research outputs – 54 peer-reviewed technical reports, 37 journal papers, with more in preparation and 49 conference presentations.
A series of knowledge adoption products used to facilitate the adoption of research into policy – 16 knowledge adoption workshops, 17 project summaries and fact-sheets, 11 project videos and 4 webinars, and implementation of data and model management plans for all projects – ensuring the data and models are available to future decision-makers and researchers.
Building on the success of the second term
The evaluation recommended that as the Goyder Institute evolves, it should retain the features that made the second term successful, including its collaborative approach, undertaking independent research and focus on research that can directly inform and drive decision-making and improve outcomes for end-users. Opportunities for improvement focused on project management, including that project funding, timelines, and the approach to project management could include more explicit consideration of collaboration needs.
The success of the second term research program provided the basis for the establishment of the third term of the Institute. This is allowing the important collaboration to continue to provide critical knowledge to support important cultural, economic and environmental values into the future. This will also allow the Institute to expand its collaborative model to have greater focus on collaboration with industries and communities.
For further information about the Goyder Institute's second term research program or the Strategic Plan and activities for the third term (2020-2023), contact Dr Kane Aldridge, Director of the Goyder Institute for Water Research.