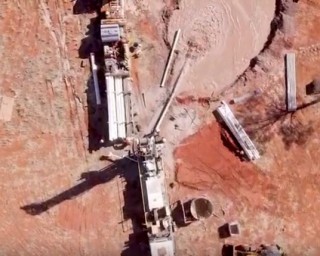 A significant source of ancient water was discovered in the Anangu Pitjantjatjara Yankunytjatjara (APY) Lands in 2018 by the Goyder Institute for Water Research's G-FLOWS (Facilitating Long-term Outback Water Solutions) project. The G-FLOWS research team have continued to map the resource and have begun to share their findings with the broader community.
As part of this, the G-FLOWS team have published two papers in MESA Journal that are generating significant industry interest:
The first article focuses on the hydrogeological aspects of the G-FLOWS drilling program, while the second article outlines the stratigraphy and evolution of one of the palaeovalley systems under study. These papers, and the G-FLOWS project in general, highlight the success and importance of the Institute's collaborative approach. The G-FLOWS project brought together over 20 staff from CSIRO, Flinders University, the Department for Energy and Mining (Geological Survey of SA) and the South Australian Department for Environment and Water to help find and map these crucial groundwater resources, drawing on expertise in hydrogeology, hydrology, geophysics, groundwater modelling, spatial analysis and programming.
The project is now in its final phase where results from the various components will be brought together to evaluate the opportunities and constraints for groundwater resource development in the APY region. More broadly it will provide information and products to help future water resources planning, investment and management both in South Australia and further afield.
Contact project leader Adrian Costar (DEW) for more information.