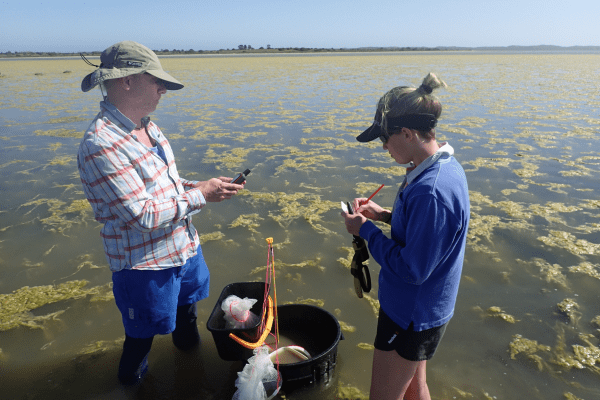 Following the conclusion of the Goyder Institute's major research program to provide high-quality, independent research to inform the future management of the Coorong in June 2022, six short videos have been produced to showcase the research.
The $77 million Healthy Coorong, Healthy Basin (HCHB) Program is an initiative of the Australian and South Australian governments that aims to support the long-term health of the Coorong by providing evidence-based solutions to both immediate threats and future conditions under a changing climate. Over the past two years, the Goyder Institute has been the delivery partner for five research components of the HCHB Trials and Investigations Project, providing independent research to inform future management decisions for the region.
The videos were produced by the University of South Australia's Creative Unit and showcase the ground-breaking work of the Institute's Partners: DEW, CSIRO, Flinders University, The University of Adelaide, University of South Australia, as well as our affiliate, SARDI.
Five of the videos highlight each of the Goyder Institute-led research components (click on the Component title to view the respective video):
These five Components have been delivered through a collaborative research effort involving 64 researchers across 13 institutions and organisations, and has supported the development of 18 Early Career Researchers, providing a foundation for the future of environmental research and management, and important training and development for future water leaders for the Coorong region and beyond.
A further video includes commentary from Dr Kane Aldridge, Director of the Goyder Institute, and Dr Jennie Fluin, South Australian Department for Environment and Water; highlighting the impact of the research and its value for informing decision-making to improve the environmental condition of the Coorong into the future. This video can be viewed here.
Goyder Institute Director, Kane Aldridge, said "We are delighted to be able to release these videos to showcase the incredible work that our Partners have undertaken over the past two years. The collaborative, interdisciplinary investigations have, and will continue to, inform decision-making in the region for years to come".
"Now that the research activities have been completed, research reports are being finalised and these will be available on our Institute website in the coming weeks" he said.
More details on the Goyder Institute-led Components of the HCHB Program can be found here. For any further information, please contact Dr Alec Rolston.