The Goyder Institute for Water Research Salt to C project is the first study in Australia to investigate the effects of tidal reconnection of a salt pond for carbon capture. The project report released this month outlines their finding that restoration of salt fields through tidal reconnection leads to a net gain in soil organic carbon stocks and rapid revegetation.
The project provided a proof of concept for introducing tidal flow to salt ponds as a pathway to realising blue carbon offset opportunities. As a result, re-establishing tidal flow was identified as a key carbon offset opportunity for South Australia in the State's Blue Carbon Strategy, recently released by Hon Minister Speirs MP (Minster for Environment and Water). The term 'blue carbon' refers to the carbon captured and stored in coastal ecosystems and may be enhanced to help mitigate climate change.
The two-year Salt to C project, was led by Professor Sabine Dittmann (Flinders University), with colleagues from the University of Adelaide, Flinders University, UniSA, Department for Environment and Water (DEW), Silvestrum Climate Associates, and the Australian National University.
The interdisciplinary research team, including participants with expertise in biogeochemistry, botany, coastal wetland ecology, carbon accounting, ecological economics, social sciences, geospatial modelling, and environmental management, carried out their field investigations and experiments at the Dry Creek salt field. They also modelled the carbon offset potential for hypothetical larger scales.
The Dry Creek salt field (where salt production had stopped) provided an ideal study case for reconnection, which was established by installing a tidal gate in a 32 hectare trial pond. A team, led by Associate Professor Luke Mosley at the University of Adelaide, in partnership with and funded by DEW and the Adelaide and Mount Lofty Ranges NRM Board, designed and operated the tidal gate to restore the ecosystem and mitigate hypersalinity and acid sulfate soils–residual impacts of the salt mining operation –while preventing any environmental risks.
The wetting and drying tidal cycle kickstarted soil recovery, without any water quality issues and returned soil conditions to those suitable for natural revegetation. The tidal trial has become a pilot project for the reintroduction of tidal flow and helped to advance the development of a blue carbon method under the Emissions Reduction fund (ERF). Such tidal reconnection is new, additional and would meet the offsets integrity standards for a project activity under the ERF.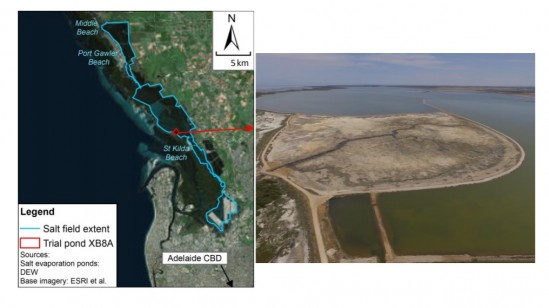 Saltmarsh vegetation rapidly colonised the pond following tidal reconnection, dominated by pioneer species Suaeda australis and Sarcocornia quinqueflora which grew quickly to mature stages. Experiments revealed that revegetation success depended on nearby seed supply and seasonal variation in seed dispersal. Data showed that even after just 1.5 years, the reconnected pond was naturally revegetated by saltmarsh.
The study showed not only increases in biomass, but also measurable increases in soil organic carbon content, which can lead to carbon offset opportunities. Greenhouse gas emissions were negligible. If a method for blue carbon was available through the ERF, or international carbon offsetting methods were able to be applied in Australia, then carbon offset credits could be gained through tidal reconnection.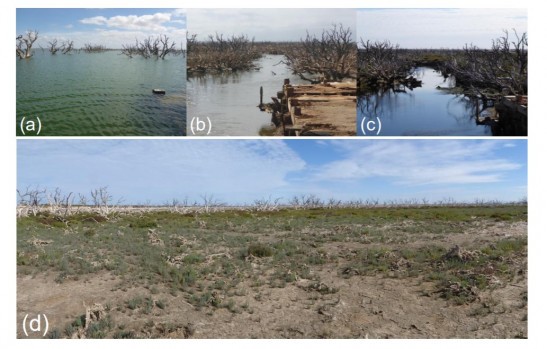 The project assessed the carbon stored in soil and biomass carbon pools and modelled carbon accumulation over time for several hypothetical scenarios. The research team's modelling showed that offset potential increases with the size of the reconnected area. For example, the successful restoration of over 1200 hectares of low-lying ponds through tidal reconnection is projected to exceed 400,000 tonnes CO2 equivalent within 30 years. Given predictions of further sea level rise, the availability of landward areas suitable for the establishment of tidal wetlands becomes important for maintaining ecosystems services over longer time frames.
Carbon sequestration from tidal reconnection is just one of the benefits of restoring salt ponds. The habitat provided by restored saltmarsh and mangrove will enhance ecosystem services – the benefits provided to humans by ecosystems. The team's social survey revealed strong cultural ecosystem values associated with the coastal wetland region north of Adelaide, further highlighting the diverse benefits of restoring the salt field to tidal wetlands.
The knowledge gained from the Salt to C project will inform decision making on coastal restoration in South Australia and nationally, which can enhance ecosystem functions and services; adaptation to climate change; mitigation of greenhouse gas emissions; and the development of a blue carbon method under the ERF.
The research team also worked collaboratively with colleagues from the Institute's Coastal carbon opportunities research project to prepare a Blue carbon synthesis report and develop a Research agenda for blue carbon in South Australia, which has also informed the blue carbon strategy. The synthesis and research agenda outline the way forward for blue carbon research in South Australia, as well as opportunities to increase carbon sequestration, potentially with options for carbon offset credits.
Contact Professor Sabine Dittmann for more information about the project. You can read more about the salt field restoration research in the project's main report or in the proof-of-concept report on salt field restoration as a blue carbon offset project methodology.