Researchers have been out looking at how the 2022–23 floods have impacted the River Murray, its floodplains and the area around the Murray Mouth where the floodwaters pour out into the Southern Ocean.
Goyder Institute researchers have been working with the South Australian Department for Environment and Water (DEW) to capture data which will improve our understanding of how our environment responds to these high flows and inform how we manage them in the future.
It will also help us understand how we can best use water for the environment during times of lower flows by identifying which areas benefited the most from this additional water.
Four projects will wrap up shortly which have looked at:
Blackwater events, the risks associated with them and how we can reduce them
How and where salt from the floodplains has moved into groundwater during and after flooding
How invasive species such as carp have responded to the high flows in terms of movement and breeding
The impact of freshwater flows from the River Murray on marine habitats and species outside the Murray Mouth
Dr Alec Rolston, Interim Director of the Goyder Institute for Water Research said "Our research to date has shown that some of the environmental impacts from the high flows have actually been very positive. We found that the dissolved oxygen levels on key Riverland floodplains such as Katarapko and Pike have remained fairly stable. Too much dissolved oxygen is the cause of blackwater events so this is good news."
"Levels of salt in the groundwater around the floodplains have also dropped which should help native floodplain vegetation to recover, and even improve in those areas which were previously too salty," he said. "It does however seem that the carp have done well from these high flows, so we'll continue to monitor this."
"We also monitored the freshwater plume in the ocean at sites adjacent to the Murray Mouth and up to 40 km offshore to check on salinity, nutrient and phytoplankton levels. Now we're replicating this at lower flows to see what effect flows from the Murray Mouth have on the adjacent marine ecosystem."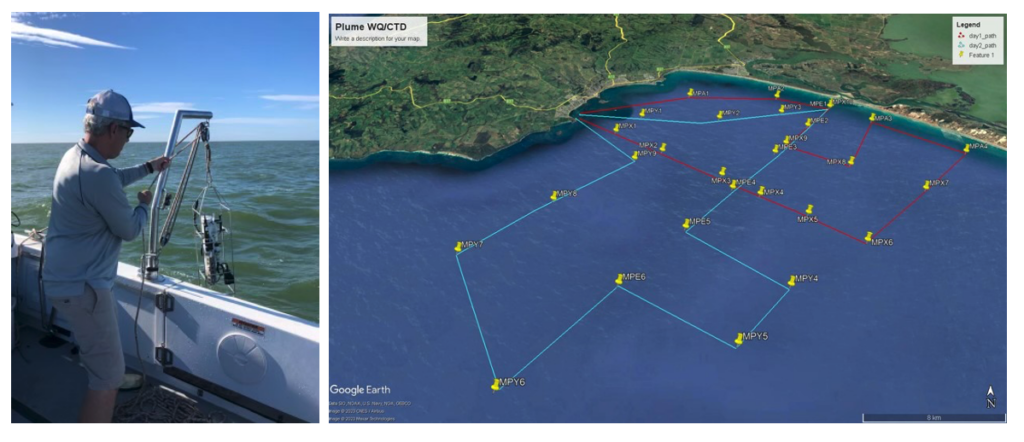 Goyder Institute researchers sampling the marine environment to investigate the effect of freshwater plumes from the Murray Mouth on the ecosystem
Additional funding to continue this important work has been secured through the Healthy Coorong, Healthy Basin Program, which is jointly funded by the Australian and South Australian governments.
Dr Rolston added "This additional funding will help us develop a more comprehensive understanding as to how the Coorong has responded to the recent increased flows. Already, we have seen organisms that have previously been restricted to the Murray estuary and Coorong north lagoon regions due to the prevailing environmental conditions extending their range further down into the Coorong as conditions have improved as a result of the high river flows. Our research will help understand how long those organisms can persist as flows reduce, and how the food web changes as a result. We will also be examining the sediment nutrients and oxygen levels and how these interact with the overlying water as this is important for the aquatic plants, algae and macroinvertebrates in the region."
Contact Dr Alec Rolston, Interim Director, Goyder Institute for Water Research for more information at director@goyderinstitute.org