The results of the research project 'Translating Ngarrindjeri Yannarumi into water resource risk assessments' have recently been publicly released on the Goyder Institute website. The project was commissioned by the South Australian Government in 2018 as a direct response to the Commonwealth Murray-Darling Basin Plan (2012) requirement that Basin states, including South Australia, must meaningfully engage First Nations in the development of Water Resource Plans (WRPs). It has resulted in a significant step towards greater inclusion of indigenous knowledge in water resource management in Australia and even internationally.
The project was led by researchers Associate Professor Steve Hemming and Professor Daryle Rigney (at the time working at Flinders University*) and included several staff from the South Australian Department for Environment and Water (DEW). It built on previous research undertaken through the Goyder Institute as part of sustained efforts by the Ngarrindjeri Nation in concert with the South Australian Government to develop and lead a co-management strategy for the Coorong, Lower Lakes and Murray Mouth (CLLMM) and Mid-Murray regions, a feat that was recognised by the award of the Australian Riverprize in 2015 to the Ngarrindjeri Regional Authority.
The team developed and tested a methodology that enabled the translation of Ngarrindjeri Yannarumi decision-making and assessment methodologies into existing water resource planning risk assessments. The methodology articulated the points of connection between the Ngarrindjeri Yannarumi assessment process and DEW's Risk Management Framework for Water Planning and Management.
The project developed proposed changes to the Risk Management Framework for Water Planning and Management that includes a new multi-layered category of 'Risk to First Nations'. Crucially this category takes into account the quality of the relationship between First Nations and non-Indigenous governments. This is intended to inform future adaptations to the risk management framework and associated practices to support the integration of Indigenous values and interests. It extended and intensified a working relationship between non-Indigenous water planners and natural resource management (NRM) risk assessors, and Ngarrindjeri leaders and water specialists.
A First Nations Engagement Guideline was also developed, supporting the implementation of the modified risk management framework. According to Professor Daryle Rigney, "this Guideline has value in broader Indigenous nation and government interactions in NRM and across other sectors".
The work has attracted positive academic reviews from international experts in the area of the engagement of Indigenous Peoples in environmental stewardship and management. One reviewer has commented: "this is an excellent landmark report and study…[that] should be recognised at the international stage".
The full report can be read here. For more information, contact the Goyder Institute for Water Research through enquiries@goyderinstitute.org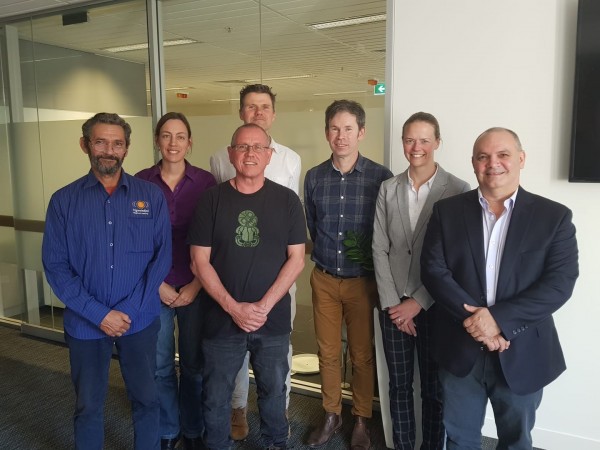 Research team (L to R): Grant Rigney, Amy Della-Sale, Steve Hemming, Lachlan Sutherland, Hugh Wilson, Noëlle Overdevest, and Daryle Rigney.
* Steve Hemming is currently Associate Professor, Jumbunna Institute for Indigenous Education and Research, University of Technology Sydney; Daryle Rigney is currently Director, Indigenous Nations and Collaborative Futures Research, and Professor, Jumbunna Institute for Indigenous Education and Research, University of Technology Sydney.